Jobs
Graduate Recruitment 2024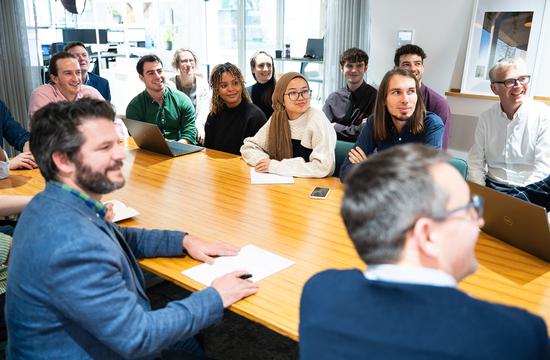 Our graduate recruitment programme for 2024 is now open.
We'll be welcoming our next cohort in summer 2024, with vacancies for 2 graduate structural engineers & 1 graduate civil engineer. Please apply by the end of December 2023. We'll be inviting candidates for interview during January 2024, with offers being sent by the end of that month.
Engenuiti is an unashamedly people driven practice, rooted in technical strength, and motivated by making buildings which are exemplary in respect of their low impact on the environment. Our rigorous approach is harnessed to minimise the materials we specify, creating elegance in our designs and solving even the most complex of problems.
The practice is centred around our team, our friends and our collaborators. We thrive when delivering buildings with and for people, and we thoroughly enjoy the process of doing so. We have a strong focus on personal development, and you will be become expert in a wide variety of fields, working with colleagues on interesting and complex projects. You will need to bring a high level of technical aptitude coupled with an enthusiasm for your projects. You will be motivated to learn, enjoy solving problems and delivering with detail and accuracy.
If you have an inquiring mind and believe you are a perfect fit for our team, then please do get in touch. Please send your CV and covering letter to recruitment@engenuiti.com.
We are a broad group of people, bound together by a commitment to a better built environment. Our strength lies in our diversity; in the fact that we are made up of people drawn from all corners of the globe; some young; some not-so-young; parents; travel-lovers; cycle enthusiasts; people who are combining their engineering career with further studies… We have consciously tried to create a culture that supports that diversity, not least through a commitment to flexible working, but also by being a fun, supportive, open-minded and welcoming team. We love what we do and we bring that sense of joy to every project.
We expect you to work proactively towards chartership of a relevant engineering institution, be committed to undertaking training and attend external industry functions and lectures to maintain and develop industry awareness. We provide mentoring and support through our accredited training scheme throughout this process.
We want our staff to become the best engineers that they can possibly be. We support graduate engineers via a structured training scheme, which includes quarterly one-to-one reviews and regular IStructE exam question practice sessions and ICE study group sessions. We help our team (both pre- and post- chartership) to develop a broad set of skills by encouraging and funding them through training courses and providing practice-wide learning opportunities.
We have embraced hybrid working and maintain a keen focus on the wellbeing of our team. We operate flexible working arrangements allowing staff to balance studio and home-working time, supported by high-spec IT infrastructure and a collaborative team.
Our studio is based near London Bridge. We offer an excellent package of employee benefits including 25 days holiday, private health insurance, enhanced maternity and partner's leave, employee assistance programme, professional subscriptions, CPD opportunities, studio lunches, annual study trip and regular team socials.
You can read more about our programme from the perspective of our recent graduates and from four staff members who joined as graduates and are at different stages of their Career Journey.
We look forward to hearing from you.